Tamara Ashley & Simone Kenyon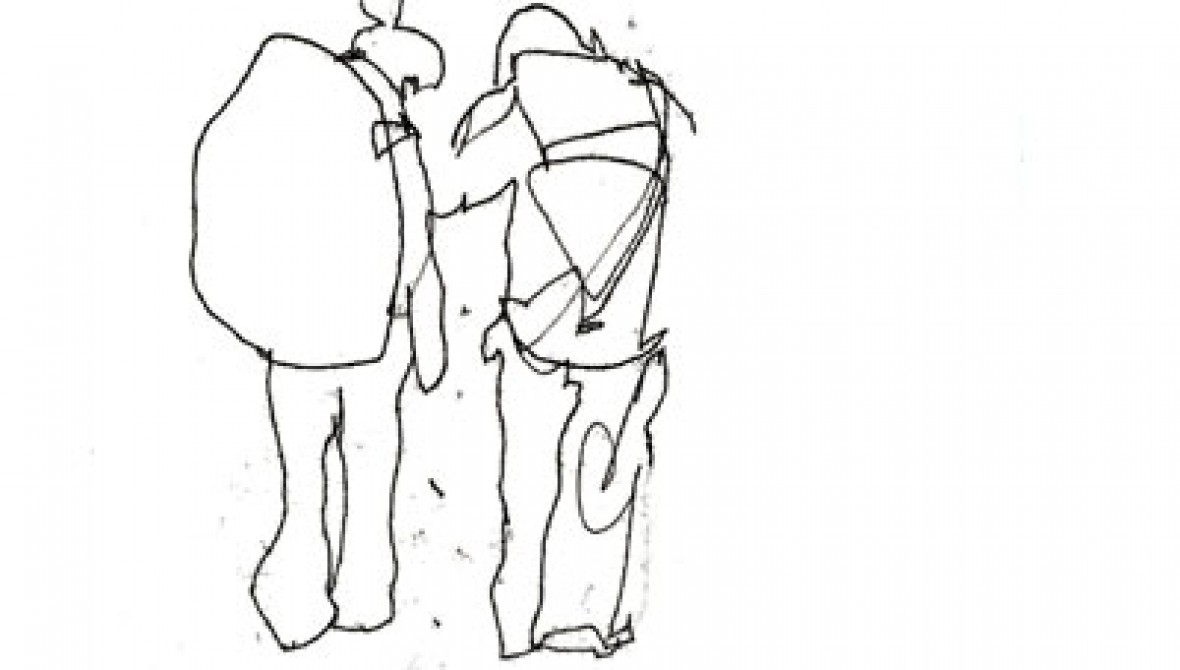 The Pennine Way: The Legs that Made Us
Over 31 days in the summer of 2006, Tamara Ashley and Simone Kenyon travelled across the Pennine Way creating a choreographic pathway; a shared journey and celebration of walking as dance and dancer as traveller. Their walk took the form of a continual duet punctuated by interactions with those they met along the way, and interventions from six other artists: Jo Brown, Glyn Brewerton, Companions of Pram, Peter J. Evans, Laura Pedersen and Tim Rubidge. 
On the ground floor of the Pilkington Library at Loughborough University, Ashley and Kenyon celebrated the act of walking in conjunction with an exhibition of first-edition walking books by Wainwright and other explorers of the landscape. Like these books, they reduced the scale of the landscape to a smaller space, a corridor bound by the seated audience on either side of them. Performing in traverse, they passed audience members as we had passed other walkers and landscapes on the trail.
At the ROAM Festival in March 2008, Ashley and Kenyon presented a retrospective performance lecture that recounted this journey. During the project we collected words, thoughts, photographs, film, drawings, sound recordings, injuries and kinaesthetic memories. With all this material at hand, we approached this performance lecture by asking the following questions: How do you recount a journey that appears so vast in our memories? When memory edits an experience, what remains? Through this performative after-event, how can an audience relate to our experience of walking?
Tamara Ashley and Simone Kenyon share mutual interests in exploring performance and improvisation to build narratives within and for landscapes and places. Their work is concerned with specific response to and interaction with sites, bringing alive the heritage of the site and posing new ideas about places through performance. 
Projects
Roam: A Weekend of Walking
Roam involved six projects which used walking as a method to explore Loughborough afresh. Read more