Kaffe Matthews
Sonic Bed_London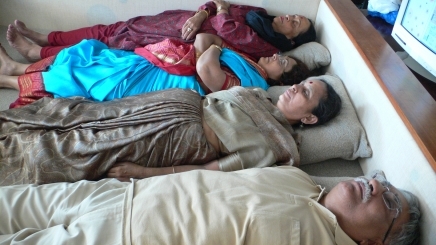 Sonic Bed_London is a purpose built portable venue that plays music to move the prone bodies of an audience, who can lie on it alone or together. Taking the form of a bed, it contains six bass speakers under the mattress, with eight further speakers in panels around the bed's side. For You are the Music While the Music Lasts, the bed was installed in Loughborough's Charnwood Museum from the 10th-28th October 2007, where it played 'PluckEhisquare_anti'; a work commissioned by Rich Mix 2006, and made by Kaffe in collaboration with the raga musician Shri. Utilizing live processing it produced musical shifts over time through the raga system.
Kaffe Matthews is a pioneering music maker who works live with space, data, things, and place to make new electroacoustic composition. The physical experience of music for the maker and listener has always been central to her approach and to this end she has also invented some unique interfaces, the sonic armchair, the sonic bed and the sonic bike that not only enable new approaches to composition for makers but give immediate ways in to unfamiliar sound and music for wide ranging audience.
Violin, theremin, wild salmon, star maps, NASA scientists, sharks, children, solo walks and the BBC Scottish Symphony Orchestra have all sourced this growing body of works for sites such as concert hall, city street, basement club, gallery, theatre, living room, empty shop and the human body.
Projects
You are the Music While the Music Lasts
A series of performances, recordings and installations exploring the utilization of sound in the navigation, negotiation and construction of space. Read more