Aura Satz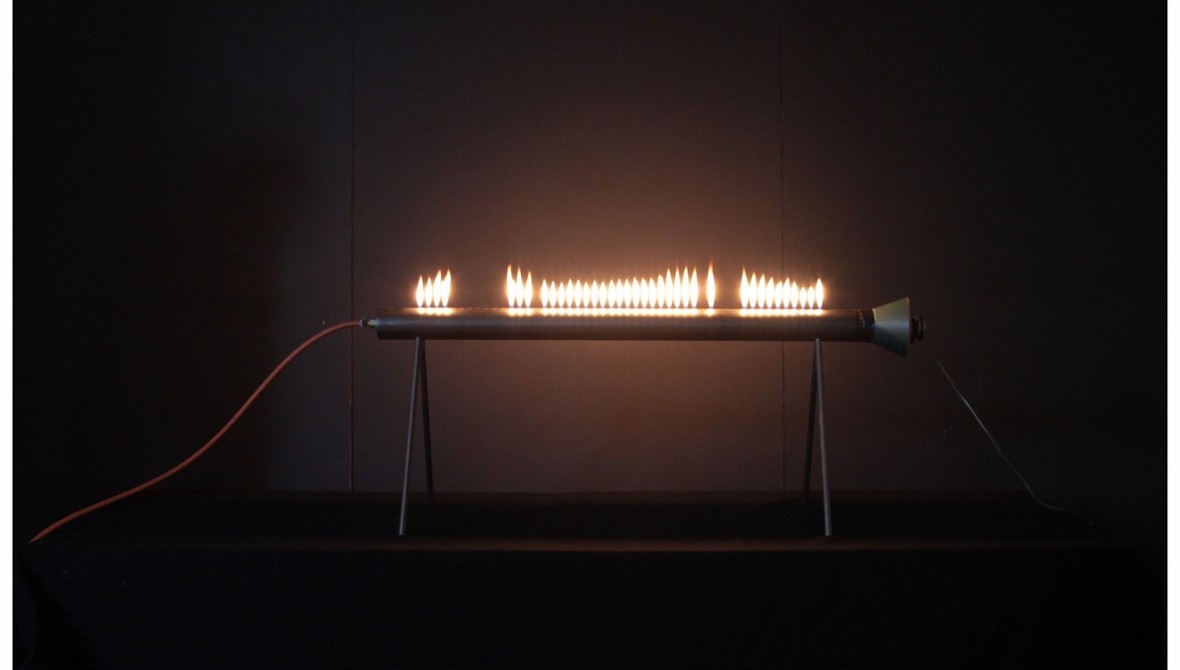 Vocal Flame
Artist and writer Aura Satz has long been interested in the relationship between man and machine, exploring and questioning the latter as a communicative tool. For Vocal Flame, Satz created a fiery sound sculpture using a Ruben's Tube, an acoustic device that visualizes sound as a standing wave of small flames. In this case, the soundtrack was a histrionic voice exploring the various embodiments of ventriloquized voices in popular culture, particularly the female voice in film. It detailed a burning bush, a self-consuming flame alphabet and the vocal training in My Fair Lady, and referenced the acousmatic notion of a voice without source.Vocal Flame gave form to the malleability, violence and porosity of vocal manipulation.
Vocal Flame was devised and scripted by Aura Satz, with the voiceover performed by vocalist Jennifer Walshe. Original music was composed by Steven Severin, founding member of Siouxie and the Banshees.
Aura Satz's practice encompasses film, sound, performance and sculpture. In recent years she has completed a collection of films which look closely at sound visualisation through various technologies such as Chladni patterns, the theremin, mechanical music, phonograph grooves and drawn/optical sound, paying close attention to the materiality of such technologies, the resulting sound patterns and the modes of gestural engagement. The films provide an intimate encounter with archaic and obsolete sound technologies, exploring their de-familiarized sculptural and tactile qualities, and revealing new ways of thinking about sound.
Projects