Who Cares?
Wed 30 October 2019, 10:00am - 5:30pm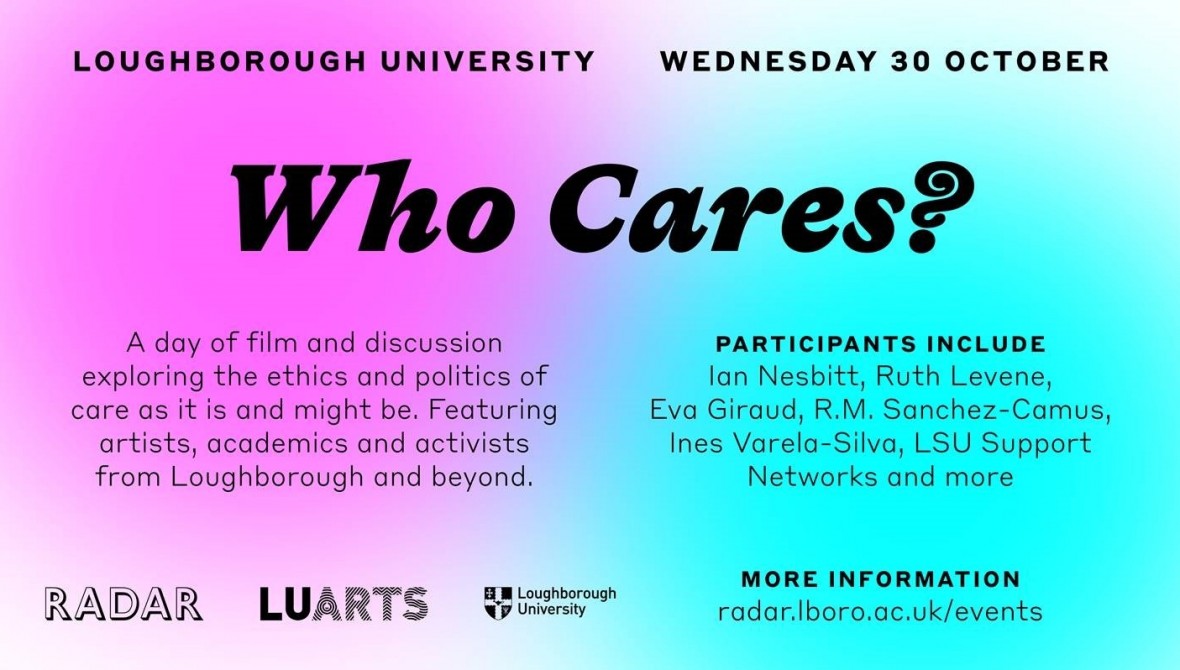 Last year the artist and filmmaker Ian Nesbitt spent time charting ecologies of care across Loughborough University's campus in his role as LU Arts' artist-in-residence. After talking with students, support workers, campus gardeners and academics he produced the short film Care Notes. To celebrate its screening in the Martin Hall Exhibition Space from October 27th-November 8th, LU Arts and Radar has worked with Ian to organise a day of discussion expanding on its themes. It will see artists, academics and student organisers interrogate 'care' as a key political concept for our time. Exploring how care is unevenly distributed and can perpetuate injustices, it will also probe how care can be mobilised to build a fairer world. Speakers will connect healthcare with ecological devastation, interrogate the role of care in social movements, and think about networks of care that extend beyond 'the human'. There will also be a screening of Care Notes, followed by a Q&A with Ian Nesbitt.
Programme
10.00: Who Cares?: Framing the Day, David Bell, LU Arts Programme Co-Ordinator

10.15-11.15: Screening of Care Notes, followed by a Q&A with filmmaker Ian Nesbitt

11.15-11.30: Refreshments (provided)

11.30-12.40: Caring Holistically: A Conversation with R.M. Sánchez-Camus (artist) and Ines Varela-Silva (Senior Lecturer in Biology, Loughborough University)

12.45-13.30: Lunch (provided)

13.30-14.45: Care, Power & Identity on Campus: A Conversation with LSU support networks

14.45-15.00: Refreshments (provided)

15.00-16.15: Infrastructures of Care: A Conversation with Ruth Levene (artist)

16.15-16.30: Reflections

16.30-17.30: A Caring Tour of Campus (optional)
Booking
Please click here to book. There is a charge of £5 for people coming from outside Loughborough University. Lunch and refreshments are included. 
Care Requirements
If you have any specific requirements around care that may prevent you from attending, please email d.m.bell@lboro.ac.uk.
Accessibility
The event will take place on a first floor room which has step free access via stair-mounted lifts. The building has male, female and gender neutral accessible toilets. The walk will take place on even terrain and can be routed to avoid steps.
Related Projects
Interventions
Radar's series of one-off events combining academic research and artistic content. Read more