POSTPONED: Risk Related Launch
Thu 26 March 2020, 6:30pm - 8:00pm at Room 1.17, Martin Hall, Loughborough University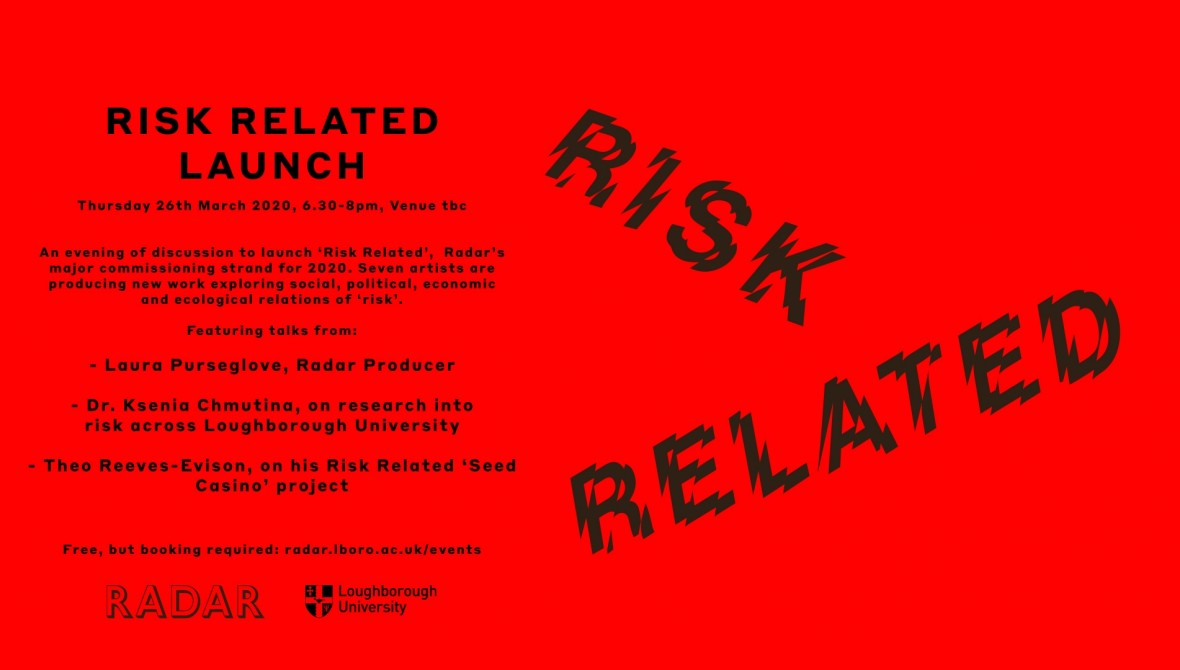 Planned Radar events and commissions will not, of course, be going ahead as planned. We are committed to supporting freelancers and as such will be paying commissioned artists for cancelled or postponed events/commissions as if they had gone ahead on schedule. We will then support artists to rearrange or reconfigure events in line with the latest government and institutional guidance, and best practice across the sector. We'd like to thank everyone we work with and our audiences for their patience and understanding, and wish you all the best. If you have any queries or concerns, please feel free to contact us.
During 2019/20, Radar has commissioned seven artists to produce new works alongside and in response to research into 'risk' across Loughborough University. This event will introduce these commissions, as well as exploring some of the ways in which academics across the University study risk. Topics covered will include ecological politics, disaster management, urban environments, artificial intelligence, the human body, resource extraction, news media and borders. Commissioned artists are producing performances, music, participatory events, films, websites and more.
The event will feature an introduction to Risk Related from Radar's Laura Purseglove and David Bell, Ksenia Chmutina introducing research into risk across Loughborough University, and Theo Reeves-Evison outlining the ideas informing Seed Casino, his Risk Related commission.
Theo Reeves-Evison, Introducing Seed Casino: Synopsis
Can trees be considered rational actors that weigh economic risks against perceived benefits? If some of the language used in ecology is taken at face value, the answer is a resounding 'yes'. This talk will explore some of the economic metaphors used to frame natural entities, connecting such language to wider currents of financialization in ecology and conservation that have emerged over the past 20-30 years. It will culminate by exploring a range of art projects that critical rework such initiatives from within, as well as the speakers' own proposal to initiate a 'seed casino' in an area of woodland belonging to Loughborough University, inviting participants to place bets on the future reproductive capacity of individual species. 
Accessibility
There is step free access to the room. If you have any other specific access requirements, please email David Bell: d.m.bell@lboro.ac.uk, or call 01509 222881. We will always do our utmost to enable everyone to access our events.
Artists
Project Partners
Related Projects
Risk Related
A series of commissions exploring risk and its social, ecological and economic relations. Read more